PROFILE
Quick Glance
| | | |
| --- | --- | --- |
| Cantonese name: | | Gigi Leung Wing Kei |
| Mandarin name: | | Liang Yong Qi |
| Birthday: | | March 25,1976 |
| Horoscope: | | Aries |
| Chinese Zodiac: | | Dragon |
| Blood type: | | O |
| Height: | | 1.74m |
| Place of birth: | | Hong Kong |
| Hobby: | | Swimming, singing |
| Family members: | | Parents and a twin brother |
| Primary and secondary School: | | Maryknoll Convent School |
| Highest level of education: | | Hong Kong Polytechnic University |
| Spoken language: | | Cantonese, English and Mandarin |
| Company: | | EEI |
Growing up
| | | |
| --- | --- | --- |
| A young star is bornt! | Gigi and her twin brother | Posing for the future |
| Belle of the school | Graduation! | Gigi and her ex-boyfriend, Kenny |
Souces: Generation G
The little write-up below is done by the webmaster. More content would be added as time goes by.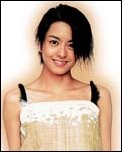 Gigi started off her career officially in the entertainment circle in the film "Mack The Knife". However, she rose to fame in her second movie "Full Throttle ". Because of this film, she was nominated for the 51st Hong Kong Movie Awards. This was indeed an encouragement for her. After that, she continued to take on many different roles in movies and has then became one of the brightest star in the Hong Kong filming industry.
Although Gigi's sparked off as a movie star, her talent in singing was also later discovered. In school, she was already a member of the choir and she also took part in many singing contests. In August 1996, her first album "Love Yourself" was out. It was a hit in the. From then onwards, she was recognised as a talented singer.
Love Story
No artiste in the entertainment circle could escape the fate of being attacked by the paparazzi of the vicious Hongkong media. In 1999, her love with Ekin Cheng was revealed. She was labelled the very worst names. That was very unfair to her. None ever realised that one cannot love to order. A fortunate thing is that people started to accept them finally. What I can say is that there is always a rainbow after the rain... Below is a summary of gossips:
The Rumours Archive
1997.06 - Rumours of Gigi and Leon Lai being lovers.
1997.09 - Rumours of Daniel Chan secretly in love with her
1997.12 - Rumours of Nicholas Tse also secretly in love with her.
1998.12 - A secret date between Gigi and Feng De Lun discovered by reporters. They admitted to it. But this relationship did not progress further.
1999.04 - Gigi revealed that she was in love with somebody in the Entertainment circle. Rumours had it that it was Ekin Cheng.
1999.05 - Sylvia Chang said that Gigi was in love with Takeshi Kaneshiro in a Hong Kong variety show.(The filming of Tempting Heart was on going then.)
1999.09 - Paparazzi caught hold of Gigi coming out of Ekin Cheng's house. The whole story got into its climax.
The Lead Actors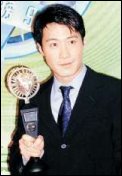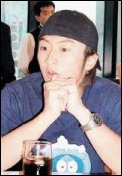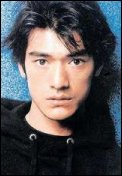 Epilogue
Well, it seems that every single move of artistes in the Hong Kong entertainment circle cannot escape the eyes of the paparazzi. To love is difficult, to love in such an environment is even more difficult. *Sigh* Anyway, the content of this page will definitely increase as time goes by so do stay tuned!